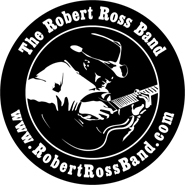 Two Time New York Music Award Winner!!
Website:
www.RobertRossBand.com
Quote:
"A blues icon. One of the great blues spirits."
Bob Fass (Radio Un-nameable, WBAI-FM Pacifica Network).
---
TONIGHT!!
Robert Ross Band @ Botany Village Pub Crawl
Saturday, October 8, 2011
7:00pm - 12am
The fountain in Sullivan Square in the center of Botany Village. In case of bad weather an indoor venue will be provided.
Other Info: This will be another Pub Crawl featuring 5 bands at 5 great venues starting at 7pm until 12 midnight. We will be appearing at JOHNNY's. The other great bands: Michael Packer @ The Coop, Carlos Colina @ El Dorado's, Victoria Warne @ Noches De Columbia, and Son Lewis@ Rossi's. See below for phone numbers and addresses.
Tickets will be $10 in advance and $15 at the door.The ticket entitles you to see all four bands at four different venues. Send an email to
bluesman@RobertRossBand.com
for more information about that.
Or if you really want to support the band we will be selling 10 tickets for $8 each in advance of the show.
The Botany Pub Crawl Lineup
:
The Robert Ross Band @ Johnny's
110 Ackerman Ave. (corner of Parker & Ackerman), Botany Village, Clifton, NJ
(Telephone: 973-546-9813}
The Robert Ross Band will feature: Mark Dann on bass, Malenstein on drums, and Robert Ross on vocals, guitar, slide guitar, and harmonica.
The Michael Packer Blues Band @ The Coop
282 Parker Ave.
973-546-9737

The Son Lewis Band @ Rossi's
254 Dayton Ave.
973-546-9843

Carlos Colina & Straight Up Band @ El Dorado's
255 Parker Ave.
973-246-1856

The Victoria Warne Band @ Noches De Columbia
1 Village Square East
973-928-4553
Thank you to Joe Nikisher (Botany Business District) and John Muller (New Jersey Sunset Blues Cruise) for organizing and promoting the event.