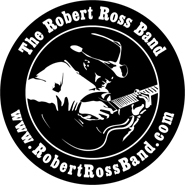 R
OBERT
R
OSS
B
AND
Two Time NY Music Award Winner
NY Blues Hall Of Fame Inductee
Quote: "A blues icon. One of the great blues spirits." Bob Fass (Radio Un-nameable, WBAI-FM Pacifica Network).
Website:

www.RobertRossBand.com
---
ARE YA HAVIN' A PARTY?
Would you like to have entertainment for your private party or wedding? Robert Ross is available as a solo or you can have The Robert Ross Band or The Blues-Manian Devils perform. Send us an email and put "PARTY" in the subject field.
---
GUITAR / SLIDE GUITAR / BASS / HARMONICA LESSONS
There is still room for a couple more students. Music theory, blues, jazz, rock 'n' roll. Rates are $60 / hour. Lessons will be given weekdays in New Dorp, Staten Island but other arrangements are possible. If interested send an email to
Bluesman@RobertRossBand.com
and put "LESSONS" in thesubject field.
---
Robert Ross Band @ Cupping Room
Thursday, August 9, 2012
8pm - 11pm
Cupping Room: 359 West Broadway, New York, NY 10013
Phone: 212-925-2898
Featuring: Mal "The Malevolent" Stein on drums, Angello "The LIttle Italian Pony" Olivieri on bass, & two time NY Music Award winner & NY Blues Hall of Fame inductee Robert Ross on vocals, guitar, slide guitar, and harp. Outstanding food, outstanding music, and FREE Admission!! ?? What more can ya ask for??

Robert Ross Duo @ Robin's Nest
Friday, August 10, 2012
8pm - 12am
3103 Tremley Point Road, Linden, NJ 07036
Phone: 908 275-3043
Featuring: Two time NY Music Award winner & NY Blues Hall of Fame inductee Robert Ross (vocals, guitar, slide guitar, & harp) from 8pm to 12 midnight. Call for Admission information: 908 275-3043
---
NEXT WEEK's SCHEDULE !!
Robert Ross @ Solar Expo Jam
Saturday, August 18, 2012 & Sunday August 19, 2012
Saturday 3pm - 4pm, Sunday Time to be Determined
Solar Expo Jam
442 Route 94 North
Vernon, NJ 07462
SOLAR EXPO JAM will take place at Jaime Rickey & Son Organic Farm. Jamie Rickey is one of the organizers of this amazing 3 day clean energy and music festival that will take place Friday August 17 to Sunday August 19. Learn about the many wonderful virtues of SOLAR ENERGY while enjoying beautiful music in a gorgeous pastoral setting.
Saturday:
PETE SEEGER will be performing at around 2pm to 3pm. I will be part of the jam and hootenany at about 3 to 4pm right after Pete's set. Show times and a full list of performers will be announced shortly. There will also be lecturers and demonstrations.
Sunday: I will also perform on Sunday afternoon, more info to come.
For tickets go to:
http://solarexpojam.com/tickets/
One-Day Pass $ 10.00
Three-Day Pass $ 25.00
VIP Three-Day Pass $ 50.00 includes: CAMPING (under the forest canopy), PREFERRED PARKING, V.I.P. VIEWING AREA & OTHER AMENITIES TO BE ANNOUNCED
Thank you to Randy Iannacone for telling me about this wonderful festival. More info to come stay tuned.