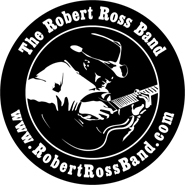 R
OBERT
R
OSS
B
AND
Two Time NY Music Award Winner
NY Blues Hall Of Fame Inductee
Website:

www.RobertRossBand.com


Quote: "A blues icon. One of the great blues spirits." Bob Fass (Radio Un-nameable, WBAI-FM Pacifica Network).
---
THIS WEEK!!
THE BLUES EVENT OF THE SPRING!!
Robert Ross Band @ Riverhead Blues Festival
Saturday, June 16, 2012
From 2pm to 3pm on the Main Stage outdoors
18 Peconic Ave., Riverhead, Long Island, NY 11901
Phone: 631-727-5782
Featuring: Steve "Holly Holy" Holley on drums, Mark "The Good Doctor" Dann on bass, and two time NY Music Award winner & NY Blues Hall of Fame inductee Robert Ross on vocals, guitar, slide guitar & harp. Long Island's legendary Riverhead Blues Festival returns on June 16 and June 17 after a year off. Come out and show Long Island what you think of the BLUES!! Thank you to Bob Barta, Vince Tria, and the whole RBF crew. Our performance will be outdoors from 2pm to 3pm. The two day festival (Saturday & Sunday) includes many wonderful blues performers (I counted 28) including: Johnny Winter, Roomful of Blues, Chris Duarte, Little Cliff, Bobby Nathan, Pam Betti, and Toby Walker. Get the full schedule here:
http://rhblues.com/?page_id=194
---
Robert Ross & The BluesManian Devils @ Jule's Bistro
Sunday June 23 from 12pm noon to 3pm (Brunch)
Jule's Bistro: 65 Saint Marks Place, NY, NY 10003
Phone: 212-477-5560
Featuring: Steve Holley (drums), Mark Dann (upright bass), & two time NY Music Award winner & NY Blues Hall of Fame inductee Robert Ross (vocals, guitar, & harp). We will perform for brunch from noon to 3pm. Great French restaurant, great music, and FREE Admission. What more could you ask??
---
The Robert Ross Band is available for private parties. As you know, we play blues, jazz, soul, and rock 'n' roll. With our diverse repertoire, experience, and flexibility our music is suitable for both dancing and dining. Send us an email and put "Party" in the subject line. Thanks.
---
GUITAR / HARMONICA / BASS / VOICE
I am taking on a few more students. I will teach any beginner, intermediate or advanced guitar and bass students. Beginner and intermediate harmonica students also. I can teach voice too. Send me an email if you're interested. I charge $54 / 30 minutes, and $60 / hour for guitar & bass. I charge $30 / 30 minutes , and $50 / hour for harmonica.